Sophie Grigson's Herbs
is a book that educates you about herbs, spices and edible flowers, the different uses they can have in your dishes, where to find them and how to preserve them.
I've been years searching for a book that would teach me broad knowledege about herbs and spices and, although this is not the book I dream on finding, it was very useful, nevertheless.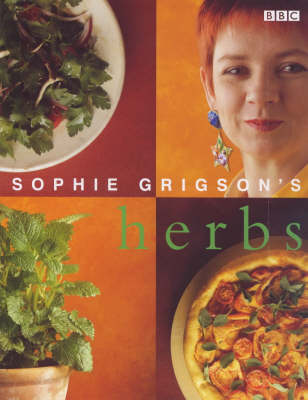 Sophie Grigson tells us about her favourite herbs and dishes, giving us recipes from comforting food to exotic dishes!
Tomato risotto with prawns and sweet cicely.
The strong point of this book is, as mentioned before, the variety of its recipes, but also the valuable information given regarding herbs. The pictures depict all the herbs Sophie mentions in her book, and that's a plus if you're thinking of planting your own or collecting them from the wild. How to recognize them is essential.
It also gives you tricks and ideas of how to preserve and store your herbs in a way that you can enjoy all what they have to offer, for as long as it is possible.
The dishes aren't too complicated; In fact, they are explained in a simple way and cooks from all levels can try them in their own kitchen! Not only that, I particularly love the stories of Sophie's travellings and how she got to be introduced to some of these herbs and/or dishes. It gives soul to her book.
The only thing I disliked about this book was that the author does not give many alternatives in her recipes. Some of the herbs are extremely difficult to find (even their seeds, which would put aside the option of planting them yourself) so I think it would had been a good idea to write about different types of herbs that could work in those dishes where the herbs are difficult to find. For sure, the dish would never be the same as in the original recipe, but people who are reading this book and have no experience in the kitchen would benefit from the alternatives. Despite this, I believe if you have a little of imagination, this won't be a serious problem.
I'll keep looking for the perfect book about herbs, but this one was very pleasant and useful, so I recommend.